About PG College of Nursing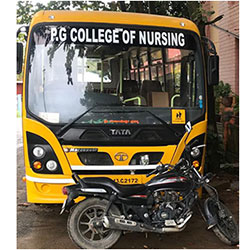 The College concentrates of the rural and poor strata and is providing them the nursing education and training to the demands of international level at cheapest possible fees structure PG college of Nursing is recognized by INC and KNC & Government of Karnataka and has won capitation of the council for our meticulous care and facilities for our students. The college is located in sprawling, accurately designed own building for highest level of coaching with the best comforts and convenience for the students. The institution has a highly qualified and experienced faculty team to impart a high quality Nursing education and coaching

About the Trust
The PG charitable trust was founded in 1997 is assiduously committed to various avenues of social services, especially in the field of education and public health. Devoted to its adherent belief that is ultimately the EDUCATION which brings a turnabout in society out trust all times thrives to contribute its best lot in the field. Identification of the school drop outs particularly from rural and slum areas and set them back into the track of education is one of our most enthusiastic humble activities.
We provide financial and all other helps in the endeavor. The trust take immense pleasure in its humble service in extending scholarship of merit students studying in technical and other courses. We are proud to announce our diversion into several other fields alike Fashion technology and Business Management courses, PU College and if god wills Kinder Garden as well
You've got to take the good with the bad, smile with the sad, love what you've got, and remember what you had. Always forgive, but never forget. Learn from mistakes, but never regret.
Click here to view our faculty members.